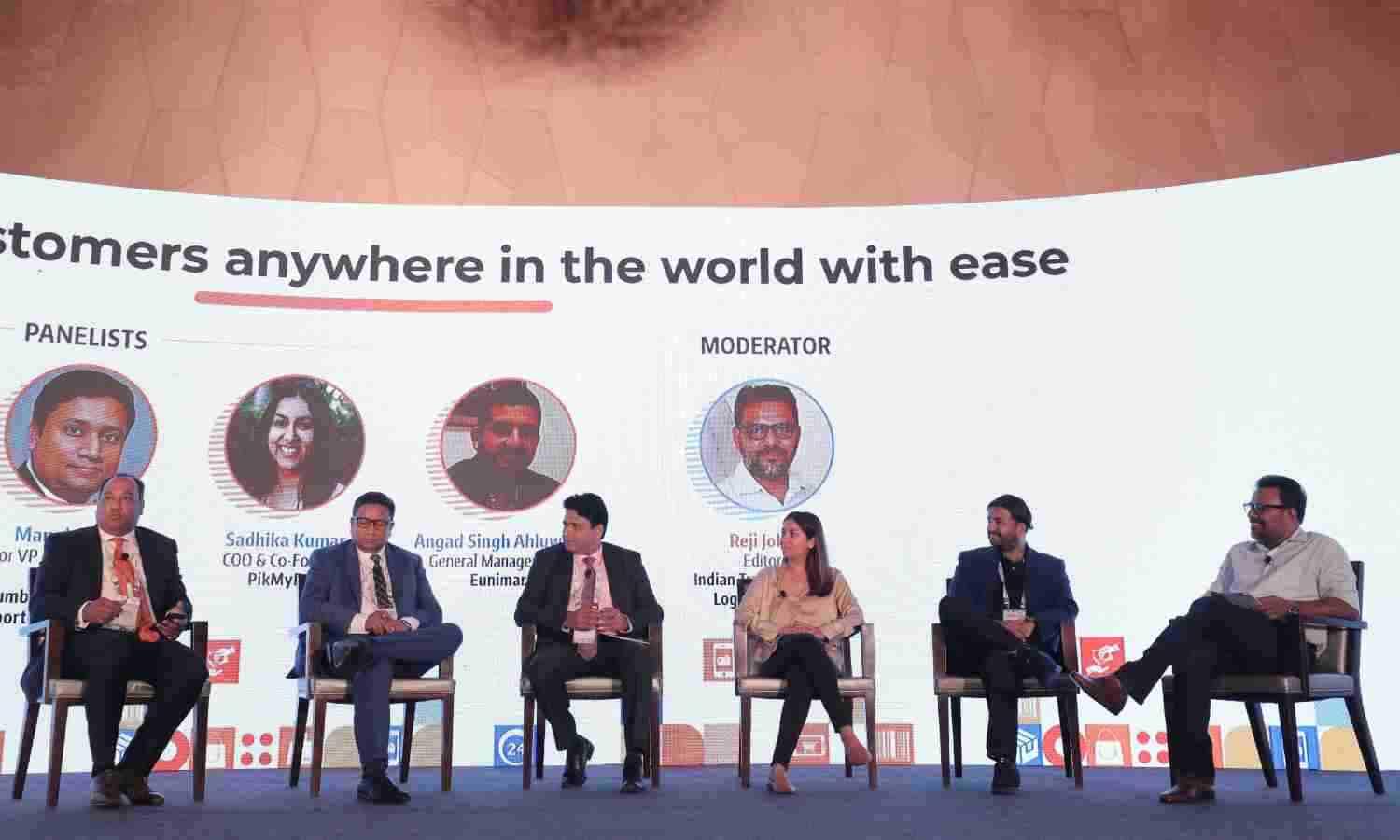 Consumers are looking for convenience and connectivity
E-commerce Logistics Summit 2022, the industry's one-day conference was presented by FedEx, eShipz, Tech Eagle, Celebi, TT Trucking, smartr Logistics, Whistle Drive and Nimbus Post.
Over the past couple of years the volume of cargo in the airport has been increasing and Manoj Singh, Senior Vice President & Head – Cargo & Express, Mumbai International Airport – Adani Airports, explained how they were tracking cargo volumes from the e-commerce for their data.
"Our cargo volumes have increased by 61%. We handle around 30-32% of e-commerce cargo internationally. As an integral part of the stakeholder ecosystem, the airport has regulations on cargo and courier regulations.To separate cargo from e-commerce, we came up with AMAX Air Cargo community platform.We get information from integrator,airlines and freight forwarder to classify these goods in a separate category. This has allowed us to see that e-commerce has grown over the past three years," says Singh.
AMAX is a web-based platform that was first introduced in 2013. It is an electronic platform that connects cargo terminal operators.
Many new start-ups and existing businesses have taken advantage of the past two years and are currently thriving in the logistics and e-commerce sectors.
"The pandemic has highlighted the importance of players like PharmEasy for India. Additionally, we have realized that PharmEasy is one of the most important players in bridging the healthcare gap in the country when (during the pandemic) medicines were not available in stores and people were afraid to move. It was also a realization for the government that an online pharmacy is needed for the availability of medicines in every PIN of India," said Dhiraj Jain, Vice President of Strategic Sourcing, PharmEasy, an online pharmacy start-up.
API Holdings, the parent company of PharmEasy, obtained final clearance from the market regulator Securities and Exchange Board of India (SEBI) in February this year to raise Rs 6,250 crore through an initial public offering ( IPO).
Digital addiction
The logistics industry today is significantly different from what it was ten years ago. Today, digitization plays an important role in the logistics industry. It is true that virtually every business today depends on the Internet.
"Everything has moved from manual intervention to digital intervention. During my stay at Baazee, we used to call the sellers to check what kind of packaging they used for the products, they added the invoice , demonstrated instructions and more. And today we have bots responding to queries, we have a WhatsApp engagement tool that gives every order information to the buyer," said Navin Mistry, Advisor, Shiprocket.
Mistry has over 20 years of experience building India's premier e-commerce companies such as Bollywoodauctions.com, PayPal and Baazee.com, a seamless online marketplace that enables consumers and sellers to communicate, exchange articles and services and to share their comments. became a wholly owned subsidiary of eBay.com in 2005.
Sadhika Kumar, co-founder and COO of PikMyBox, an e-commerce logistics solution provider that makes it easy to export via India Post and express couriers, said, "We no longer see logistics as a point A to point B. There are a lot of people involved in the whole process and it's a disaggregated system because everything is digital to some extent, everyone has a digital system but that's not all just not have everyone talking together."
On the one hand, the world is moving faster with the internet and looking for new innovations, some parts of our country that are planning to take a big step towards logistics but still struggle with strong connectivity.
According to the director of Apt Logistics, Sabiha Mulla, the main obstacles to its future strategy are infrastructure and internet connectivity in the Andaman and Nicobar Islands. "Now that everything is digital, what needs to be ensured in terms of infrastructure is that in addition to coverage, do we offer enough backup with multiple service providers?" Mulla said.
Mulla's preliminary study of online shopping preferences in Port Blair began as part of his doctoral research and eventually sparked an e-commerce boom in the Andamans. Mulla's future project for the Andaman region is to connect residents of the region's 36 islands to the online shopping experience.
An important aspect in the e-commerce industry is reach and penetration. But can digital collaboration help close the gaps in today's supply chain?
"Market information is very important. What consumers like and reproduce quickly is important because there are too many players in the market, consumers have a choice today. The speed of delivery of technological solutions is therefore important," said Meheriar Patel, the group's chief information officer. Officer, Digital Solutions, Jeena & Company.
In addition, a discussion took place on the importance of data in logistics and how collaborative data helps suppliers perform better and provide good services to their consumers.
"For us to be successful in India, with new platforms coming to Tier 2 and Tier 3 cities, the platforms and channels they cross are more diverse than Tier 1 consumers. There are platforms -social commerce platforms and whatsapp enabled commerce so people will buy from everywhere so as a platform you need to support every channel and build a supply chain to mimic that demand pattern and build the network," said Harsh Vaidya, CEO and co-founder of WareIQ.
Next, Kamesh Puri, CEO of Celebi Delhi Cargo Terminal, spoke at length about the technology added to warehousing, ground handling and cargo. "I've been in this industry for 30 years now, so I've seen what the industry was like in the early 90s and what it is today. Processes are driven by systems these days. Today it is no longer a system of only the freight forwarder and the terminal operator, but there is an attempt to integrate via an air cargo community portal.The idea is to move from an individual system to a freight community system. There are more developments to be made, innovations have to be made for an all paperless transaction."
Maintain consumer satisfaction
Customer satisfaction is essential for logistics organizations that seek a competitive advantage because they understand that if they do not meet their customers' expectations, their place will be usurped by other companies whose operations will be more focused on customer expectations. . Therefore, logistics companies must provide all facets of customer service, whether it is order acceptance, fulfillment, or problem resolution.
Suvendu Choudhury, General Manager, International Operations, FedEx spoke about cross-border logistics and how they are democratizing the e-commerce logistics landscape where anyone can buy and sell online from anywhere in the world.
"Today in e-commerce, people around the world demand convenience and connectivity. If you look at speed, FedEx offers an international priority express service that reviews time-definite deliveries. We also have the FedEx connect plus product that is designed for e-commerce which looks like cost competitiveness. If you look at technology, there is a significant importance of technology enhancing delivery experiences. Along the way, we have been able to innovate ourselves themselves to meet consumer demands.
"We try to be a single point of contact for D2C brands, from selling items across multiple platforms to supporting the post-purchase experience of D2C brands. With demand growing, even if we undertake pre-purchase promotion, consumers will not remain loyal if they do not have a satisfactory post-purchase experience. In terms of consumer satisfaction, large companies such as Amazon and Flipkart do not specify the time it would take to deliver the goods. So, WistleDrive tries to guarantee a delivery time and provide the goods with a buffer period of 15-20 minutes, so that the consumer can plan their day accordingly," said Prashanth M, Director of operation of WhistleDrive.
Utkarsh Sharma, co-founder, Dy. The Director of Revenue (North) commented on how they deal with e-commerce today, last mile and fast commerce. "D2C is going to be a very important segment for logistics players. Technology supports us today, but in the future, training, process improvement and motivation of the last mile person will make the difference , because the way the package is delivered to the consumer's doorstep also has a huge impact."
Industry experts also shared their thoughts on how to improve the consumer experience.
To this, Amol Prasadi, Supply Chain Manager of Metro Brands, said, "Sharing the delivery partner's live locations and an estimated time of arrival will be a game-changer. Secondly, not everyone is familiar with the English, so consumers can receive messages in their preferred language/local language.Third, consumers have different experiences with each delivery partner, so let consumers choose the delivery partner.
Yash Jain, Founder of NimbusPost, discusses the business changes he's been seeing and how his business is adapting to trends. "Every company is working on ways to improve the overall customer experience. Tracking and notification are two examples of this, as everyone is moving to WhatsApp notifications. As a result, WhatsApp will play an important role in D2C communication. One issue for brands is how quickly they can deliver. To improve delivery performance, companies are turning to fulfillment warehouses, inventory and fulfillment."
The event focused primarily on how everyone involved in the logistics of delivering an item to a consumer needs to work together to improve the process, make it faster, and meet consumer demand.