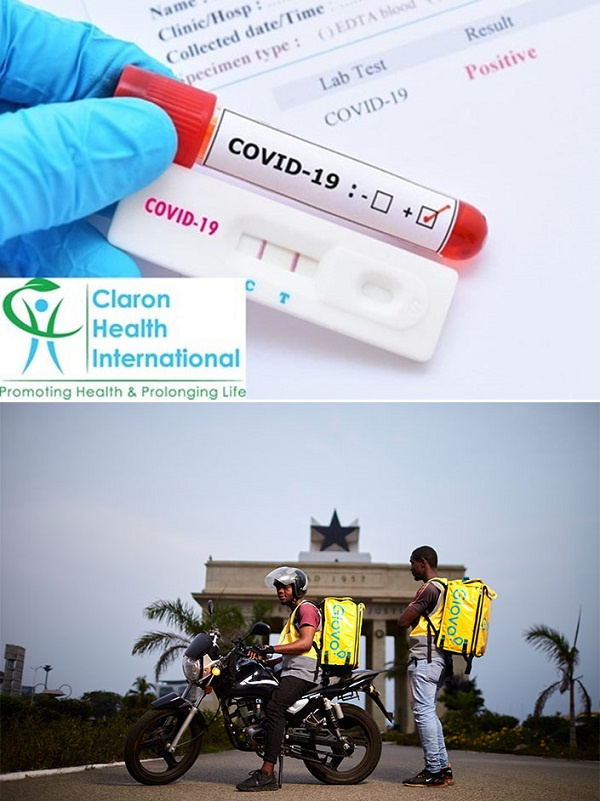 Glovo partners with Claron Health International to provide easy COVID-19 testing services to customers
Glovo partners with Claron for easy COVID testing
Global delivery leader Glovo has become the first-ever delivery app to provide COVID-19 testing services to its customers in Ghana.
In partnership with leading healthcare facility Claron Health International, Glovo is set to provide customers in Accra with access to a convenient booking engine for in-clinic or at-home COVID-19 testing.
To benefit from this revolutionary service from Glovo and its trusted partner Claron Health International, customers will need to select the Claron Covid test page on the Glovo app to book a Covid test. Claron Health then receives an order with details of the test type, booking time, client, and payment information. A Claron Health staff member will contact you to confirm further details if needed.
Clients can access COVID-19 testing services at home or at the clinic depending on the option chosen by the client. Test results are sent to customers via email or WhatsApp.
Speaking on this innovation, Glovo Ghana Managing Director Pearlyn Budu revealed that the addition of COVID-19 testing to its multiple services has been propelled by the growing demand for regular COVID-19 testing and the eagerness of company to serve communities and provide comfort during this time. pandemic.
"As a company that prides itself on providing access to fast delivery services to make life easier, there is nothing more important to us than bringing convenience to people during times of health uncertainty. and security. We are very pleased to have partnered with Claron Health to provide access to timely and affordable testing facilities," she said.
Pearlyn added that observing the resurgence of COVID-19 epidemics around the world and the alarming rate of increase in COVID-19 cases in the country, Glovo is committed to reducing the current curve of the spread through the Glovo-Claron Healthcare partnership that will bring testing to the doorsteps of many.
Glovo is a leading global multi-category delivery player that launched its operations in Ghana in March 2021. The on-demand platform aims to make life easier for Ghanaians by providing access to convenient delivery services.
Glovo users have access to different categories to choose from such as restaurants, supermarkets, drinks, package delivery and anything. Glovo has the "Everything" category, which is the most unique category, as it allows users to shop from the comfort of their location. Users can also leave notes or a list of items they need, and Glovo couriers will deliver them. Also, in some locations such as Osu, East Legon, and Spintex, the app has the "Shops and Gifts" category, which allows users to shop directly from various stores.
On the Glovo app, orders can be made to be received on demand or scheduled to be received at a date and time that is more convenient for the user. There are several payment methods that users can choose from. The platform accepts Mobile Money, Cash and Direct Debit cards as payment methods.