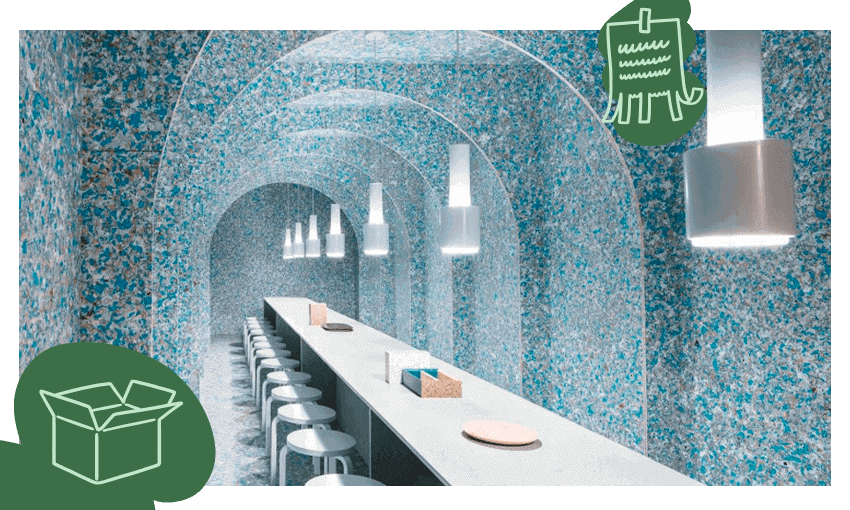 Hamilton startup turns coffee cups and soft plastics into gib board
SaveBoard has the backing of a large logistics company and sells in a market short of high-demand building materials. But even its CEO says the low-carbon building materials startup can't save the industry.
For the past 10 weeks, every two and a half minutes, a factory in the Hamilton suburb of Te Rapa has produced building materials made from the kinds of plastic waste that our food, drink, packages and our courier.
With a five-day, eight-hour work week at the start of late 2020, production in January increased to three 24-hour days per week. But SaveBoard didn't go "full throttle right away," says chief executive Paul Charteris; current output is half the factory's 200,000 card capacity. "It's a balancing act, matching production to demand. We are getting closer.
It couldn't have come at a better time. The building materials manufacturer produces a low-carbon alternative to plasterboard, more commonly known in Aotearoa as gib board. It is a product in hot request, but supply is tight. Last week Winstone Wallboards, New Zealand's only manufacturer and largest distributor of gib plasterboard, announced a freeze on all new orders for deliveries from July 2022. Instead, gib will be made available via an "allocation model". A backlog of orders and the resulting longer delivery times caused by last year's lockdown are the explanation for this.
Even if SaveBoard were to reach full capacity, processing 4,000 tonnes of plastic waste, it would only capture around 2% of a market dominated by Winstone's 94% market share. Yet the global pandemic has wreaked havoc on global supply chains, shipping costs and building materials, and SaveBoard is profiting from the disruption. The company has been contacted daily by builders, developers and homeowners hungry for alternative wallcovering products, says Charteris. While the startup helps relieve some stress, it won't be much, he concedes. "We can probably do about 600 houses a year, but there are more than 40,000 granted at the moment. We can't save the construction industry, but we can add capacity that doesn't exist.
SaveBoard may be a minnow, but it has serious backing from food packaging maker Tetra Pak, sustainability and landfill solutions consultancy Closed Loop and logistics firm Freightways. This latest investor, Freightways, might raise an eyebrow – it is perhaps best known for the portfolio of parcel and courier businesses it owns, including flagship courier brand New Zealand Couriers, with its red livery and yellow and its lightning bolt logo. So why would he care about building materials? It turns out that for about 15 years, Freightways has been at the forefront of the waste industry – secure document destruction, e-waste recycling and even medical waste disposal.
Now he has turned to plastic. After all, discarded coffee cups and milk cartons still need to be collected, processed and delivered before they are shredded and turned into plasterboard, says Freightways managing director Mark Troughear. "The idea of ​​being able to build something 100% from waste, here in Aotearoa, and put it in the hands of customers, has generated a lot of interest for us. Around 300 potential customers have contacted us since the initiative was launched.
The initial interest might be there, but part of the difficulty that recycled building materials face is wider market acceptance; their success or failure depends on effective marketing of proven products. Consumers prefer low-carbon products as long as they are competitive with traditional materials, says Graham Burke, executive director of the New Zealand Construction Industry Council (NZCIC), the supreme association made up of bodies representing all people involved in construction. a building. And if all else is equal and supply can comfortably meet demand, success wouldn't be too hard to achieve. But: "If the customer does not want the product and the designers do not specify it, the construction companies cannot integrate them."
It's a tough sell and SaveBoard has anticipated the task. Under a heading titled "Not Perfect," its website reads, "If you're looking for perfection, then SaveBoard isn't for you. Use a new product that has not been used to give you a flawless finish or look. Even its CEO notes that the product has a "natural texture" compared to gib's "perfect flat finish". Burke says New Zealanders are used to clean, "monolithic" interior finishes and some short-term resistance to products with lines, creases, press marks and veins in the finished surface is expected. On the other hand, when it comes to building roofs, the ability of the substrate board to help shed water and remain durable is far more important than aesthetics. It may be easier for SaveBoard to find customers for its roofing substrate product.
In the United States, similar technology has been used for more than a decade, including by electric vehicle maker Tesla for the membrane roofing substrate at its giant 200,000 square meter "Gigafactory 1" in Nevada. Some 336,000 kg of embodied carbon emissions have been saved compared to a plywood substrate. But SaveBoard is not a miracle solution, and Charteris recognizes this. A hundred more companies doing innovative work in different areas are needed to make a real difference, he says. "We are still only a drop in the ocean compared to the amount of waste."
On 252,000 tonnes of plastic wastei.e. 8%, is dumped in landfills every year. Building a house and demolishing a building is more expensive, as this waste constitutes between 40% and 50% landfills. At least half could be diverted if sorted. When it comes to greenhouse gas emissions, buildings are directly and indirectly responsible for a fifth of New Zealand's emissions. Globallyconstruction accounts for a third of the world's waste, built from around half of the 100 billion tonnes of raw materials mined on the planet.
SaveBoard claims that its products are not only low carbon (less than 90% compared to traditional materials), but that no water, glue, chemicals or formaldehyde are used in the recycling process. There is no "green premium" added to the price – the company claims the products cost about the same or less than equivalent traditional materials. Bulk orders are cut to length, eliminating unnecessary waste, and the Te Rapa processing plant can recycle any offcuts into future products.
This circularity appeals to NZCIC's Burke, whose first impressions are positive. SaveBoard is the kind of innovative solution needed to help Aotearoa achieve net zero carbon emissions by 2050, he says. Yet, while the building and construction sector agrees with the government's ambitious climate change target, it is in the early stages of acquiring the knowledge and skills needed to construct buildings at low carbon and energy efficient. And, at a granular level, builders are still trying to figure out "where they can add their share."
Andrew Eagles, chief executive of the New Zealand Green Building Council (NZGBC), wants the country's processes and structures to drive the construction of greener buildings. "For example, maybe half of your development contribution costs are reduced or the consent process is faster," he says. "If we're smart, let's flip things around to reward people who build better low-carbon homes and buildings."
NZGBC is the leading non-profit sustainable building organization in Aotearoa, offering "Green Star" green building standards for commercial buildings and "Homestar" for homes. Five years ago, 500 homes were built under the 'Homestar' rating tool, a quality assurance mark that measures a home's performance and environmental impact – similar to the energy ratings that appear on machinery to wash. Over the past six months, 5,000 homes have been built in this way, and this number could be multiplied by 20 this year. Eagles says New Zealanders – from consumers to businesses like Countdown, Fisher & Paykel Health and Genesis Energy – increasingly demand cleaner and greener buildings. "We could see a shift from green products to standard and removal of the 'green' label to non-green products labeled as something like 'grey' products."
Despite all the buzz around sustainability, SaveBoard's Charteris is slowly getting down to the business of winning people over. Today's increased demand for plasterboard alternatives may make him nervous — "we might sell tomorrow" — but short-term customer satisfaction doesn't have to be a one-off, he says. The startup wants lasting relationships with its customers — the kind that build homes and buildings out of recycled coffee cups, used drink cartons and soft plastics.