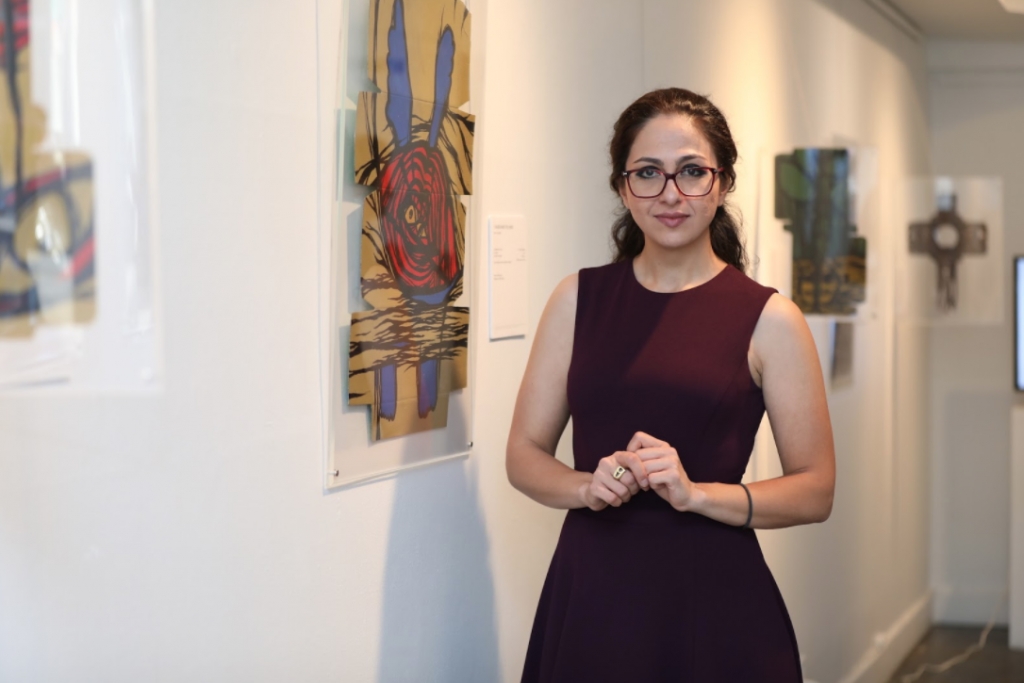 How an artist turned food packaging into art: a business by Bita Mokhtar Masoumi
[ad_1]
Written by: James Carnell
Photo by Alireza Teymouri
There's no question that your favorite chip or candy business spends thousands, if not millions of dollars packaging their food. Colors, graphics, shapes and designs are carefully selected to catch your eye and increase your desire. So how weird to think that the very packaging they're spending this money on is destined to end up being thrown away, to spend the rest of its (very long) life in landfill.
Bita Mokhtar Masoumi is an internationally renowned visual artist whose life has offered different perspective and understanding. As a young girl, having grown up in Iran during the Iran-Iraq War, Bita had a deep understanding that food supplies were, in fact, limited and that every action taken (by an individual, as well as a collective) has a value. direct impact and indirect consequences. Through this lens, she was dismayed at the overconsumption and extravagance of Western society when, later in her life, she moved to the United States to complete her Masters in Graphic Design. After completing his studies, Masoumi started working as a graphic designer, creating a powerful brand and visual identity for many international companies. Her experience with commercial design has encouraged her to create art to invite viewers to question the sustainability and ecological impact of consumption.
Masoumi cannot remember a moment in his life when art was not present. Her grandfather was a respected painter, who studied under the famous Kamal-ol-Molk, and her family encouraged her as an artist by facilitating art classes to enhance her natural abilities. Although she is inspired by artists such as Sohrab Sepehri and Forough Farrokhzad, she has a very unique style and even founded her own style: recycled painting. Recycled paint is made using pieces of waste, mostly food packaging, as a canvas for painting. In her own words, Bita says that "recycled paint is [a silent protest] against waste, such as food waste.
While this process began as a fun way to pass time and explore creativity on the go, the recycled paint later became a therapeutic tool for Bita. After losing her father when she was only 17, she went through a lot of heartache and heartache. Releasing those emotions by drawing or painting on anything she could find at the time allowed her to heal and process her pain. As an adult, Bita became much more passionate about social and environmental issues, which added an even deeper element to her work.
With each piece she creates, Masoumi breathes new life into something that would be thrown away as unnecessary. She often uses leftover items she has already purchased and even asks her friends and family to keep their most precious remains for her. His graphic design experience allowed him to see the potential beauty of this waste. While her inspiration comes from her own emotions and life experiences, she also allows the shape, texture, color and cut lines of each package to help guide the work. She finds rectangular canvas painting not only expensive but also quite boring, and relishes the challenges that recycled paint can bring. Bita likes that this approach makes her works limitless.
"In a more basic sense there will probably never be a shortage of supplies and a lot of my materials are free, but more significantly it is unlimited as it is not limited by any traditional styles or preconceptions. "said Masoumi.
As a viewer of Masoumi's work, we are asked to reconsider our understanding of beauty and think outside the box when it comes to materials that have value. For her, every beautiful piece of paper that ends up in the trash is a piece stolen from nature. Although she generally prevents a small percentage of waste from ending up in landfills, her message has a strong impact. She hopes her work ignites something in her audience. Maybe they will reflect on their own overconsumption and reconsider the amount of waste they create in their own lives. Or maybe they'll just ask, "Why did this artist paint on food packaging?" Either way, that curiosity can trigger the start of change and at the very least start a conversation.
Awareness is so often the first step in meaningful transformation. There is no doubt that the work of Bita Mokhtar Masoumi will invite a much greater awareness of this very serious social and environmental problem.
This article does not necessarily reflect the views of the editors or management of EconoTimes.
[ad_2]