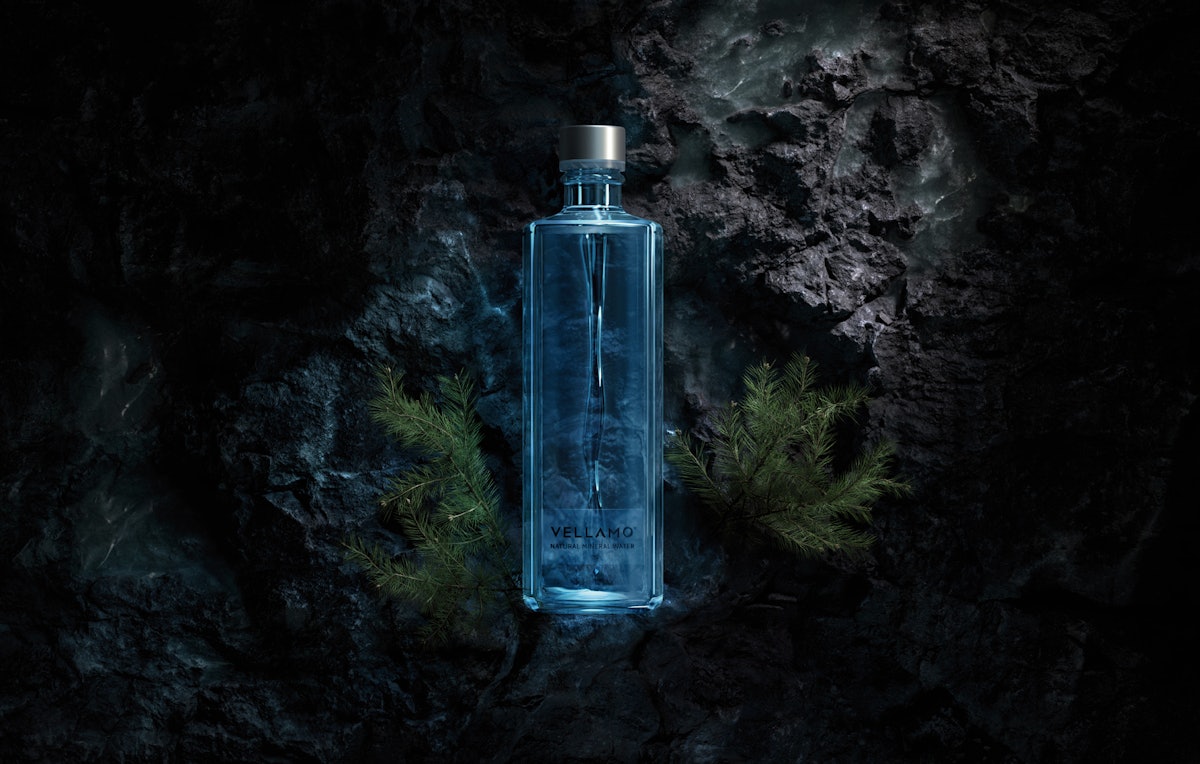 Ice Age-Era Water Taps Mother Nature for product, packaging
Ice Age Water Ltd. from Heinola, Finland, sells its unique natural mineral water from the last ice age under the Vellamo brand. With the product inundated with sustainability – 10,000-year-old glacier water meets the stringent standards required for an official seal of approval, is bottled at the source, and contains no environmental pollution, minerals or added sweeteners – Ice Age Water wanted nothing less for its packaging.
"Vellamo is one of Mother Nature's perfect creations," says Petteri Ahonen, CEO of Ice Age Water. "We have taken important steps to ensure our unique taste, purity and sustainability for the health of our customers and the planet by achieving a carbon neutral footprint for production, packaging and logistics. "
Vellamo, her name pronounced "vel-emo" and derived from the spirit of the water goddess in Finnish mythology, uses packaging that evokes the origins of water while using materials – glass and wood. – which come from equally natural sources. The Scandinavian-designed glass bottle is sculpted to resemble a block of ice, with a vibrant blue color that evokes the blue of the glaciers from which the water comes. According to the company, "the top-down flowing water element indicates how the water passed through the glacier to northern soil. When you place Vellamo face down to the side, you can find the canyon, his home.
---
Find out how other water bottlers are approaching sustainable packaging in these related articles from Packaging world:
Coca-Cola to use 100% rPET bottles for water and tea in Western Europe
FIJI Water unveils multi-faceted plan to reduce its use of plastic
Chlorophyll water bottle designed to be 100% biodegradable in landfills
JUST water bottle now includes plant-based materials
Evian's "naked" bottles are ready for launch
---
The label material used for the bottle is where innovation really comes in. The Forest Film PP ™ material of UPM Raflatac, is "the first and only" polypropylene plastic labeling material in the world, says the supplier. Forest Film PP is made from UPM BioVerno Naphtha, a 100% wood solution made from crude tall oil, residue from the pulp production process from sustainably managed forests. According to UPM Raflatac, the label material has the same quality and properties as traditional PP labels.
The label also offers another aspect of transparency. It includes UPM Raflatac's RafMore, a smart labeling solution that allows consumers to scan the unique label of each Vellamo bottle to access real-time product life cycle and carbon footprint data.
Vellamo is available in 50ml and 75ml bottles in the United States, where it was launched in February 2020, as well as in Finland and Canada.
Watch a video on Vellamo and its packaging.