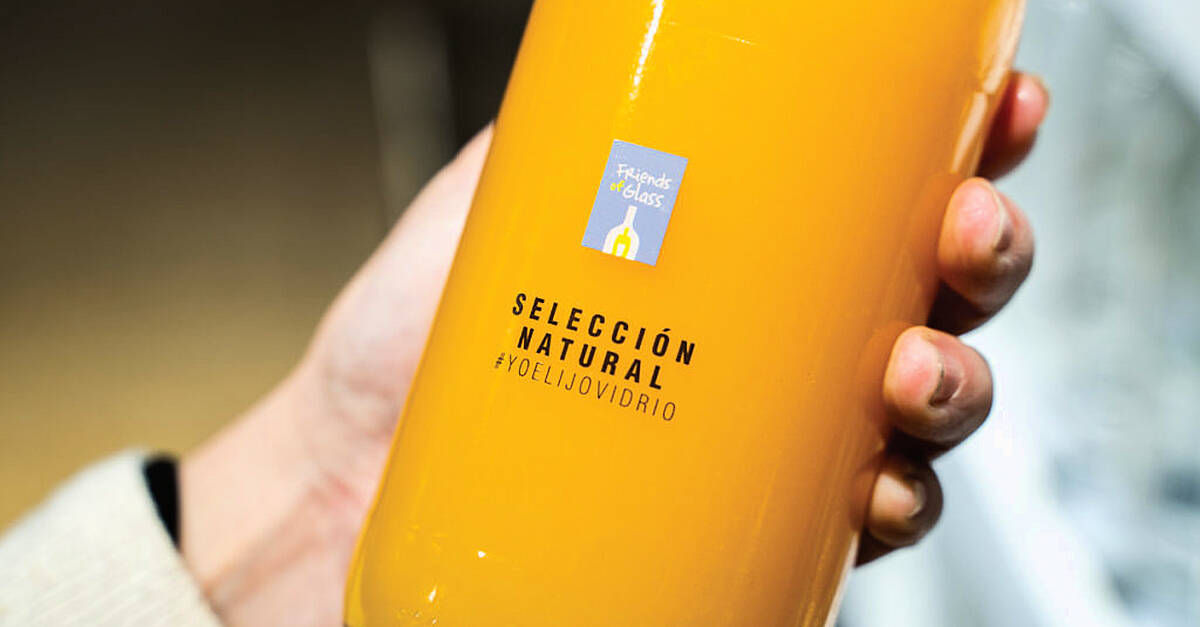 The future of packaging made clear
Glass offers retailers the opportunity to boost their sustainability credentials and increase sales, according to new research from FEVE. This article first appeared in ESM Issue 2 2022.
The year 2022 has been designated by the UN as the International Year of Glass, and for FEVE – the European Container Glass Federation, this represents an unmissable opportunity to consider glass as a packaging format ready for the future.
But as well as ticking the right boxes when it comes to sustainability, glass can also help boost sales for the category, a pan-European study undertaken by FEVE has found.
Building on the preliminary results of a previous initiative in Italy, FEVE recently partnered with Carrefour Spain and ANFEVI, the Spanish association of glass packaging manufacturers, on a project to assess whether glass can positively influence customer purchasing decisions.
Rolled out in two phases over six months, at the Carrefour La Eliana point of sale in Valencia, the project enabled customers to offer the choice of glass bottles instead of plastic in the freshly squeezed orange juice segment, while that additional in-store supports have been deployed on the shelves where glass packaging is displayed, bearing the motto #YoElijoVidrio, or #IChooseGlass.
The project exceeded all expectations – in the first phase, sales of freshly squeezed orange juice increased by 250%, thanks to the provision of glass bottles, while in the second phase, sales of the category increased by 91%. By presenting an alternative to plastic, Carrefour was able to draw an additional consumer profile in the category, while retaining its existing customers.
Additionally, the introduction of in-store materials supporting the #YoElijoVidrio message also had a positive effect, with sales of products in glass packaging registering a 6.8% increase thanks to the campaign.
The success of the initiative prompted Carrefour to introduce glass bottles to its freshly squeezed orange juice shelves across Spain, while encouraging customers to continually reuse these bottles, emphasizing the circular nature of glass.
A webinar to discuss the findings of the project recently took place, with representatives from Carrefour and ANFEVI, which can be viewed below.
https://www.youtube.com/watch?v=RLkXb-bWuME
Consumer Choice
As this project has shown, if consumers have a choice, they will choose a more sustainable option, and glass packaging fits that agenda. The study shows that consumers associate glass with better quality, better presentation and longer shelf life. Consumers buy more in a product category when glass is presented as an option, and feel an "emotional connection" to the package format.
It also points to an opportunity for retailers to consider the packaging formats they use as a way to drive additional sales, and even expand solutions into other departments, while bolstering their environmental credentials – an approach which until now may have gone unnoticed on a larger scale. companies.
The future made clear
Earlier this year, FEVE published a major report, The future made clear, which explored the mindset of consumers in a time of great change – amid public health crises, global warming and economic turmoil – and examined the role that a sustainable packaging solution like glass can play in a new world.
Through its "Glass Hallmark" initiative (glasshallmark.com), the industry seeks to promote the fact that glass remains safe and protects products, no matter how many times it is recycled – a unique strength of glass .
Already, the average bottle in Europe contains around 52% recycled glass, and for every 10% increase in the use of recycled glass, CO2 emissions fall by 5% on average – a figure that keeps improving. as technology advances. With this in mind, the glass industry is well positioned for a green future.
For more information, visit www.feve.org and www.friendsofglass.com.
© 2022 European supermarket magazine – your source for the latest packaging news. Article by sponsored content. Click on subscribe register for ESM: European Supermarket Magazine.