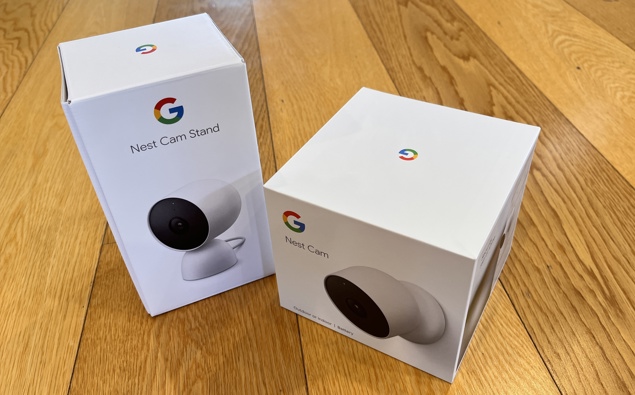 Transparent security has a price
There are certain gadgets that you can rely on to just work.
No hacking. No trial and error with the installation. Follow the directions, turn them on and boom, let's go.
In my experience, Google gadgets are like this.
Even since the first generation of Chromecast, Google has always offered the most user-friendly experience imaginable. Even creating mesh Wi-Fi networks is familiar and foolproof with Google Nest routers.
So I had no doubt that using Google's latest Nest Aware home security products would be just as enjoyable.
I was not deceived. Over the past two weeks, I've tried the Nest Doorbell (battery), Nest Cam (outdoor or indoor, battery), and Nest Cam (indoor, wired). As usual, setting up each of these devices was an absolute snap – these days the Google Home app is all you need; just tap that little plus sign at the top of the screen and follow the step-by-step directions from there.
The most complicated part of the process is deciphering the names of the devices themselves. In Google's effort to make things super simple, it seems to have overlooked the fact that the Nest Doorbell and Nest Cam (outdoor or indoor) can, in fact, also work in a wired configuration. But don't worry – the app will explain all of this to you as well – even how high to place your doorbell and whether or not to use the angled mounting wedge included in the box.
In fact, let's start with the Nest Doorbell, because it's the most fun. Unfortunately here in New Zealand these devices are only available in snow (white) although luckily my house is also white so it looks pretty good. There isn't much to see; a big camera and a big button. In fact, the button is so big that a few couriers completely missed it when I first installed it, trying to press the camera lens instead. This despite the fact that an LED ring around the button lights up whenever someone is in range. Too bad.
The mounting bracket is a bit tricky at first – there's a special tool to unlock the unit from the baseplate – but once you get the hang of it, that's no problem. Which is just as well the only way to charge the Nest Doorbell (assuming you are to run it on battery) is to remove it completely and plug it into the supplied USB-C charger. This is a bit annoying, as you will be without a doorbell for the few hours it takes to charge. On the bright side, mine currently shows four weeks of 49% battery remaining, so it's not like you have to charge it that often.
If you are replacing a wired doorbell, it will connect to your existing doorbell. However, for me, with my battery setup, I can use whatever other Google speakers I need to stream when I have a visitor – with my choice of chime. This means you can easily hear your doorbell anywhere in the house – all you need to do is scatter a few speakers.
The Nest Cam (outdoor or indoor) is another prime example of Googley's minimalist design; in fact, the shape couldn't be more simplified – a sphere with a flat side for the camera. Again, setup is almost self-contained through the Google Home app, but the real beauty of this camera is its versatility – you can place it anywhere.
It has an incredibly strong magnet in the mounting plate which not only applies to the back of the camera at any angle you desire, but also to other metal surfaces like doors, gates and doors. fences for screwless installation.
Like the doorbell, you'll obviously need to remove the camera to charge it for a few hours every now and then – although there is a battery saving mode that limits some features so that you can squeeze a little more out of each charge when there is. has less than seven days remaining.
If that sounds too complicated for you, there are weatherproof charging cables available in 5 and 10 meter lengths if you prefer a wired solution. Alternatively, the Nest Cam also works well indoors and there is an optional mount that charges the camera as well. Oddly enough, this magnetic mount, while well weighted for balance, only allows you to tilt the camera horizontally downward, so you'll need to find a tall shelf to place it on.
But if you come indoors, you can also stick with the Nest Cam (indoor, wired) – a much smaller version that's built on a similar weighted stand, although with this one you can do. rotate the camera to any angle which gives you the option to rotate it up, down or to the side.
All three devices offer excellent picture quality, surprisingly useful built-in speakers and microphones, and have excellent viewing angles; up to 160 degree field of view in the case of the Nest Doorbell. But it's the machine learning capabilities of these cameras that really set them apart. You can choose to be warned (or not) of the presence of people, animals, vehicles or any movement. My favorite feature is the detection of packages via the doorbell.
Because I have a house full of people who work and study from home these days, the number of couriers coming and going has skyrocketed. Now, the Nest Doorbell not only lets me know when someone left a package, but it also lets me know when someone has picked it up – just so I can make sure it was the law Someone.
A big advantage of these new Nest Aware devices over many others is the amount of onboard processing they do. This means that notifications are much more instant.
These notifications can appear as short preview snippets on your phone, and they arrive faster than any other camera I've used. My biggest complaint is that there is no preview for smartwatch notifications – I tested this with Apple Watch, Galaxy Watch4, and an Oppo watch running Google's own Wear operating system – each n 'displays only text notifications, no preview clips or thumbnails like other security systems do. Maybe this is something that Google could upgrade later.
Speaking of upgrades, there is of course a choice of subscription services to get the most out of your new Nest Aware devices. While the notifications I mentioned will still happen, you can actually train your cameras to recognize people with the Familiar Faces feature – that way, you'll receive personalized notifications when your household members come and go. It's part of the Nest Aware subscription, with 30 or 60 days of unlimited cloud storage – certainly something to consider given that there's no local SD card storage option. You will still have three hours of recording history without subscribing, but it won't be much use if someone breaks in and runs away with your TV while you are sleeping soundly in the middle of the night.
The more expensive 60-day subscription even gives you 24/7 check-in – good peace of mind if you keep an eye on your car parked on the street, for example.
Nest Aware subscription plans start from $ 9 per month, and you can try the additional features for free in the first month, to see if you find them useful enough to pay.
As smart as these cameras are (and they are perhaps the smartest I've ever come across), it all comes down to Google Home integration – where you can access each of your Google-enabled devices from a single central application. It's easy to set up devices, navigate to live feeds and video history with ease, and if Google can just nail those smartwatch notifications, the relatively high asking prices might well be worth it.
Click here for more information and pricing for the Google Nest (battery) doorbell.
Click here for more information and Google Nest Cam pricing (outdoor or indoor, battery).
Click here for more information and pricing for the Google Nest Cam (indoor, wired).